Epson TM-m30III (152): USB + Ethernet + WIFI + BT, Black, PS, EU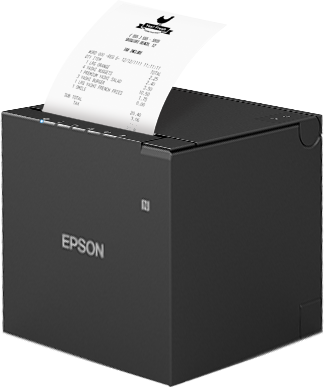 Fast, compact, versatile
The TM-m30III mobile POS receipt printer offers a range of excellent features, including enhanced connectivity and reliability.
Modern and feature rich
Compact and stylish
USB, Wi-Fi and Bluetooth
Based on a stylish and ultra-compact design, and with a host of advanced features, Epson's TM-m30III is ideal for environments where quick, simple and reliable receipt printing is essential. A perfect combination of mobility, connectivity, reliability and ease-of-use, it's designed to meet the needs of a wide range of growing businesses.
Overview
Even more feature-rich than its predecessors, this addition to Epson's highly popular TM-m30 series features an ultra-small footprint and super-sleek design, and delivers easy, cost-effective and reliable receipt printing in any environment where space is an issue. Including not only a USB Type-C PD (Power Delivery) connector, the TM-m30III (Wireless model) also features integral Wi-Fi and Bluetooth functionality, while its antibacterial coating provides protection against liquids to IPX2 standards, making it ideal for tough environments such as kitchens. Also featuring a paper near-end detection system, it's great for kiosks and self-checkouts, and its superior de-curling mechanism means that it's perfect for receipts that need a signature. Now supporting Android and Windows as well as iOS, the TM-m30III comes with links to video guides that make set-up and configuration fast and easy.
Key Features
Stylish, all-new design
Ultra-compact, sleek, reliable and affordable
Improved mobile connectivity
Includes a USB Type-C PD connector, plus integral Wi-Fi and Bluetooth
Designed for efficiency
Features a paper near-end detector and superior decurling mechanism
Built for tough environments
IPX2 protection against liquids, plus antibacterial surface treatment
Wider platform support
Now supports Windows and Android, as well as iOS
Kvittanaprentari TM-m30III (152) Svartur
Vörumerki: Epson
Vörunúmer: C31CK50152
Lagerstaða: Til á lager
Merki: Kvittanaprentari